Far too often I see damaged amplifiers from improper repair. Here is one effective method to replace the rail capacitors in your PG amps without lifting traces on the PCB.
Starting with a $37 eBay special ZX350v.2:
1. Get a pair of pliers and rip the leaking bastards right off of the board:
(Notice the two stray strands of copper wire that were hiding underneath)
2. Flush cut the solder and leads (Spend the $5 and get a good pair of Xcelite cutters):
3. With pliers in one hand and soldering iron in the other, heat each pad while gently pulling the lead from the other side. After solder removal and cleaning you are left with this: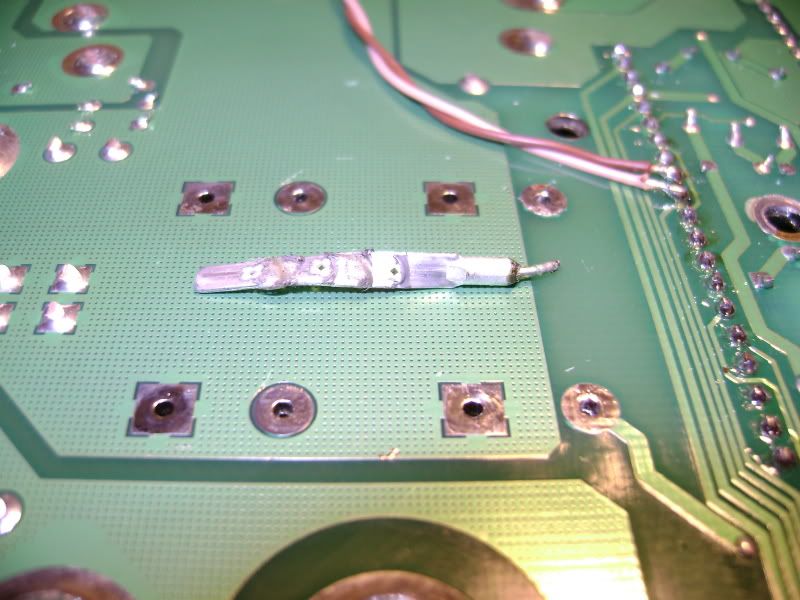 4. Clean up the mess. The electrolyte is acidic, and eats up the copper PCB traces:
5. If you are wondering about the brown wires from a previous pic, look at the two thin traces. They are the MOSFET drive signal from the 3525 PWM controller. See where one is completely corroded through? That caused a runaway on one side of the power supply and smoked the FETs as well as the 3525.
6. Solder in the new caps, and remove the flux residue:
7. Enjoy:
The power supply rail caps cannot be removed the exact same way. They are "snap in" type, and the leads cannot be ripped out of them as easily. I just flush cut them on the solder side, then heat one lead at a time while gently pulling them away from the board.